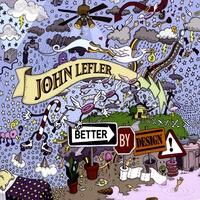 It often seems like every indie band has a sideman who's a power popper at heart, and behind the emo stylings of Chris Carrabba and Dashboard Confessional lies DC's guitarist/pianist John Lefler, who's put out one of the more impressive power pop debuts with his solo album Better by Design and has an instant contender for album of the year here.
Lefler touches all the power pop buttons here. "Dream Your Life Away" opens the disc with a Jellyfish-inspired track that could have come off Spilt Milk, with its British invasion melody, staccato guitar riffs and snare drums, all delivered with a certain
joie de vivre
that a power pop fan can almost innately pick up. There's no dropoff next with the title track, with its insistent piano beat and McCartney-esque melody, and the sweet and jangly "Lucy" is 2:16 of pure ear candy.
An opening trio like that is hard to follow, but Lefler hangs in there with several more gems. The midtempo rocker "Afraid Anymore" recalls both Fountains of Wayne and Cliff Hillis, "Hard Act to Follow" (hey, didn't I just use that phrase?) is another 'Fish-styled number with a quality guitar solo, and "Helplessly" is a pretty ballad that does a fine job of letting the listening catch his or her breath.
The latter portion of the disc is rounded out with the file Sloan-styled "Better Than You", the bright rocker "Ordinary Guy", complete with "oh-oh-oh"s and a Matthew Sweet/Gin Blossoms sound, and the dreamy Lennonesque closer "Up My Sleeve". A stunning debut from Mr. Lefler, and one I can see in a lot of power poppers' top 10 lists come year's end.
CD Baby
|
MySpace
|
iTunes
No Lala embed (listed as mp3-only there), so here's a link to hear it free on Napster:
Better By Design