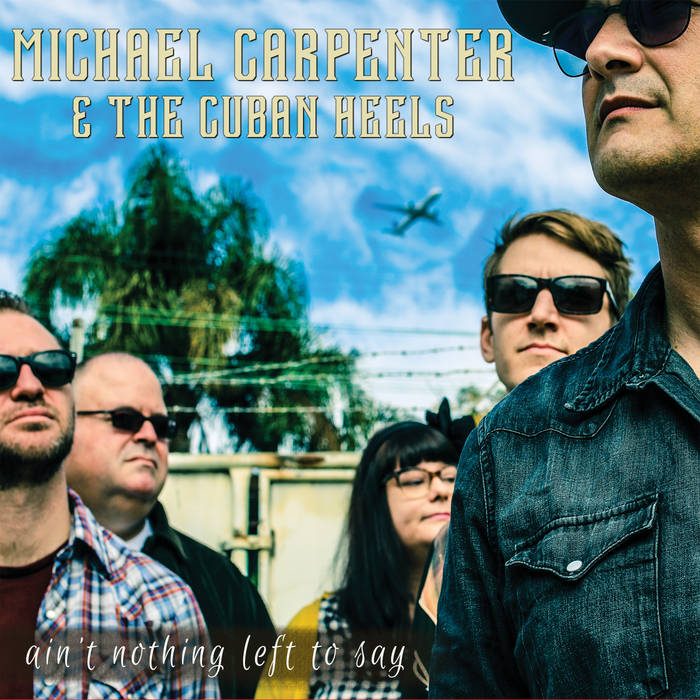 Michael Carpenter & The Cuban Heels-Ain't Nothing Left to Say
. When we last left Michael Carpenter the previous autumn he had released our album of the year, The Big Radio, which was billed as probably his last solo record. But that doesn't mean we've heard the last of him, and a scant seven months later he's returned with The Cuban Heels, his rotating band of fellow Aussie pop/rockers including Russell Crawford, whom we've featured here in his own right. The difference between a Cuban Heels album and a proper MC solo joint is that he turns to a more alt-country/Australiana sound but his gift for melody and the catchy tune isn't diminished by addition of some twang or pedal steel. In fact, the title track with its "na na, na na na na" backing would fit right at home on one of his pop albums, and "Photo" is more power pop than country. Still you do get some twang here (which in my book is welcome) with "I Should Have Told You" and "Wasted Years, Wasted Time". I could go on, but this is new Michael Carpenter music. I don't need to tell you it's worth a listen.
Bandcamp
The Person & The People-Dark & Low
. This Minneapolis band has been kicking around the better part of a decade and Dark & Low is their fourth release in that time so it's long past time I mentioned them on these pages. Their sound is highly melodic indie rock, and although they mention Ryan Adams and Weezer as RIYL artists on their album page, I hear more Teenage Fanclub as covered by Superdrag. Anyway, it's an interesting brew and this album features such gems as the almost-jangly "Hot Summer Nights", the 2:08 burst of "Sleep All Day" and the crisp rock of "Until the Morning". And after you get into this one feel free to dive into their back catalog, which is quite good as well.
iTunes
David Brookings & The Average Lookings-David Brookings & The Average Lookings
. Also back on our pages again is David Brookings, who this time bills himself with his backup band The Average Lookings. This is his seventh album and another great collection of his jangly, breezy west coast pop. Crediting the backup band here is appropriate as Brookings has a fuller sound here, heard on tracks such as "Time to Go", "The Optimist" and "You're Right, it Went So Wrong", which are Grade-A power pop. Also of note is the alt-countryish "I'm in Love With Your Wife", which considers the famous George Harrison/Patti Harrison/Eric Clapton love triangle, and the shiny pop of "Place We Can Go", perhaps the quintessential David Brookings track. They may consider themselves "average looking" but this is some pretty handsome pop.
iTunes