Normally I don't write about singles, as often they're just teasers for albums I'll review later or just because I'd rather spend my time on an artist who puts out a full album rather than merely a single. But recently several artists I've featured here before have new singles out, so it's time to round them up in one post in case many of you have missed one or more of them.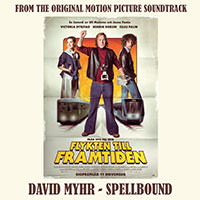 David Myhr-Spellbound
. While we're still waiting on the full-length followup to 2012's great Soundshine, the ex-Merrymaker regales us with this brilliant ELO-and-70s-pop-inspired single from the soundtrack of Flykten till Framtiden, a Swedish time travel movie likely not coming to a theater near you. If only Myhr himself could master time travel, he could have released this in 1974 and knocked "Hooked on a Feeling" off the top of the charts.
iTunes
The Tories-We Still Shine
. Yes, you read that right - it's The Tories, reunited for their first new music in 15 years. While Steve Bertrand and James Guffee have given us some fine solo albums over this time, it's great to see them back together and hopefully this single is the forerunner of a new full-length album. The new song captures the pop style that allowed them to break out of the "power pop ghetto" around the turn of the century and is worth your time.
iTunes
Michael Carpenter and Allan Caswell-Back When I Was Older
. For someone who was supposedly retired when he announced that last year's The Big Radio would be his final solo album, Michael Carpenter sure has been busy in 2016. First, he released a new album with The Cuban Heels and now he's teamed with Australian country music legend Allan Caswell for this fine single. The song shares a theme with Dylan's "My Back Pages" ("I was so much older then/I'm younger than that now") and is an enjoyable, catchy country rock tune that's of a piece with Carpenter's Cuban Heels work.
iTunes
Mark Bacino-Not That Guy
. NYC popster Mark Bacino re-emerges for the first time since 2010's Queens English with a wonderful new single that finds him at his melodic best. It's a jaunty, McCartney-esque track that reminds us of how much we've missed new music from him.
iTunes
John Faye-Miss America
. Ex-Ike guitarist John Faye comes to us just in time for this contentious election season with a track that isn't about a beauty queen but about the state of nation as he small-m miss(es) America. Although the lyrics are social commentary, they're not particularly preachy, and the sound itself is classic Faye - crunchy, loud guitars and a hooky melody. In other words, classic power pop.
iTunes