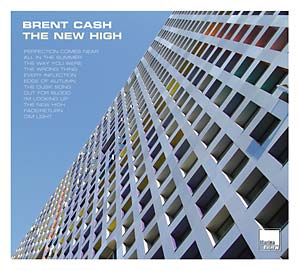 Brent Cash-The New High
. Georgia's Brent Cash has made a name for himself over the past 10 years with a pair of smooth, sleek pop albums of superior craft. He's back with his third album, the first since 2011's How Strange it Seems, and The New High is a new high indeed, once again channeling the likes of Brian Wilson, Van Dyke Parks and Burt Bacharach in places. For openers the stately, mellow pop of the title track (reminiscent of Kyle Vincent) gives way to the glorious piano pop of "Out for Blood", a Brian Wilson-meets-Todd Rundgren melange. Meanwhile, "The Wrong Thing" wouldn't be out of place on a Seth Swirsky album, "Every Inflection" only needs a flugelhorn to quality as a lost Bacharach track and "The Way You Were" is McCartneyesque chamber pop. Fittingly the album concludes with a track titled "Perfection Comes Near", an apt description of the proceedings here if your tastes run toward soft pop.
iTunes
Thorcraft Cobra-The Distance
. Despite the name, Thorcraft Cobra is not 80s-styled hair metal band but rather the LA duo of Billy Zimmer and Tammy Glover. Their album here is kind of a "tweener", somewhat power pop, somewhat classic rock, and somewhat roots rock, but all melodic goodness. Opener "Carolina" has an anthemic buildup in service of a 70s Laurel Canyon sound, "Uncoupling" brings Michael Penn and Aimee Mann to mind, and "Caught in Between" reminds me of Gary Louris' Jayhawks classic "Smile" and the album of the same name as a whole. A great example of an album made by adults and for adults.
iTunes
Smisch-The Story of My Life
. Smisch is a singer-songwriter from Sweden, and his debut album The Story of My Life is kind of the "Swedish pop" version of a typical singer-songwriter album. The opening title track is a gem, recalling Neil Finn and "I Will Never" has its own breezy charm as well. Other standouts include "Together", which adds some piano to the mix and has an early solo McCartney feel, the sprightly "Summer Love", and "Break Yourself Free", a fine pop number that sounds like it could have come from Finn's band, Crowded House. At 15 tracks, there's something for everyone here in this quality debut.
iTunes