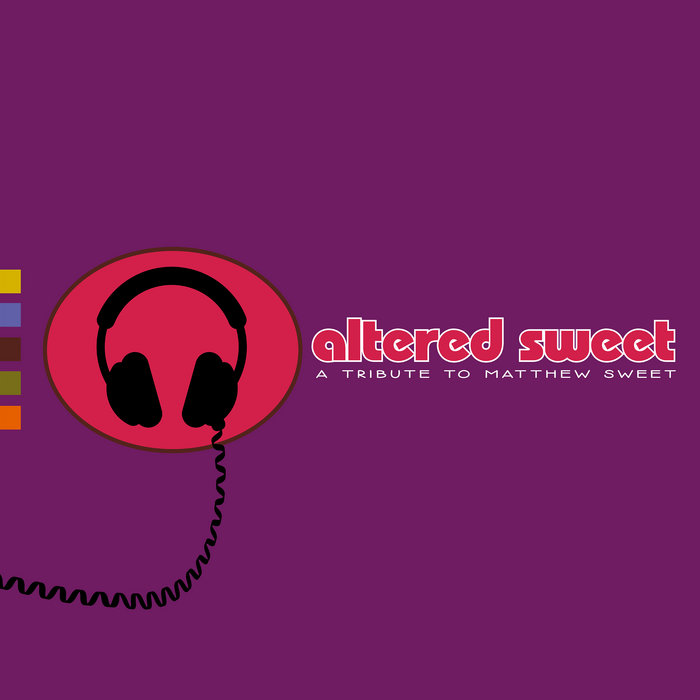 Various Artists-Altered Sweet: A Tribute to Matthew Sweet
. Futureman Records' Keith Klingensmith knows his way around a tribute album, and
2016's Sloan tribute
was one of the best of the genre. So to say this project covering another power pop luminary with a long track record of quality music was widely anticipated in the power pop community is a bit of an understatement, and unsurprisingly Futureman comes through here again. Like the Sloan tribute, Altered Sweet has a lineup dominated by artists I've featured on these pages, so the winning tribute formula of "songs you like covered by artists you like" is clearly present here.
Although Sweet has been active since the mid-to-late 80s and remains so through today, the bulk of the covers here are from his peak creative period in the 90s from Girlfriend through In Reverse. The title track of the former is probably Sweet's best-known track and Michael Carpenter (a master of covers himself with some 6 covers albums under his belt) does the honors here with a straightforward version. Lannie Flowers is a great choice for Girlfriend's jangle pop classic "I've Been Waiting", while Phil Ajjarupu has a breezy take on "Thought I Knew You" and the man with the plan, Klingensmith, handles the ultimate "feeling sorry for yourself" song "You Don't Love Me" with class. But as beloved as Girlfriend is, my favorite Sweet album is 1995's 100% Fun* and it too is well-represented here, with Greg Pope's vintage low-fi power pop making "Not When I Need It" sound like one of his own, Gretchen's Wheel's "Walk Out" sounding like a lost Aimee Mann track, and in the most radical re-imagining of the collection Simple Friend delivers an acoustic boy-girl folk-pop version of "Sick of Myself", one of Sweet's more heavier rocking tracks, proving its melody works well in either genre. 1997's Blue Sky on Mars is represented by Andy Reed's faithful reading of "Where You Get Love" complete with synths, while fellow Michiganer Nick Piunti tackles "Behind the Smile" with the guitars front and center and The Well Wishers rawk on "All Over My Head". And 1999's In Reverse (Sweet's most underrated album in my opinion) finds Paranoid Lovesick giving us a punchy version of "What Matters" and Donny Brown coming through with an excellent cover of my favorite Sweet ballad, "Hide".
Interestingly Altered Beast, the album from which the tribute derives its title, only has three covers here - Elvyn puts their jangly roots-pop stamp on "Time Capsule", Nick Bertling has a heavy version of "Falling" and Chris Richards & The Subtractions does Sweet proud with "Someone to Pull the Trigger". Also by my count, only 4 of the 27 covers come from outside those 90s albums: Trolley reaches back to 1986's "Inside" with "Quiet Her", The Hangabouts un-Earth "When I Feel Again" from 1989's Earth, Fireking offers "Dead Smile" from 2003's (originally Japan-only) Kimi Ga Suki, and Arvidson & Butterflies mines 2008's Sunshine Lies for "Byrdgirl", which is more rocking and less jangly than the title implies.
Futureman has hit another home run here, and I can only look forward to whatever artist Klingensmith turns his attention to next. (I helpfully suggested Marshall Crenshaw to him on Twitter, but we'll just have to see).
Bandcamp
*I may have mentioned this elsewhere, but the title "100% Fun" was Sweet's response to those who criticized Altered Beast for being "too dark" (it certainly wasn't the followup to Girlfriend many were expecting). And after Blue Sky on Mars wasn't well-received by the critics, Sweet responded on In Reverse with the none-too-subtle "Write Your Own Song", giving him the title of thinnest-skinned popster since 1970s Billy Joel.