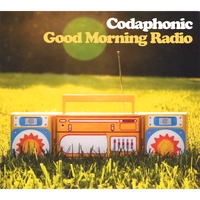 This trio from Nashville has come up with a contender for EP of the Year. Good Morning Radio is Codaphonic's debut, but its craft and self-assurance could easily fool the listener into thinking they've been around for 10 years.
The title track starts off things, and it's a great tune that doesn't outstay its welcome at nearly five minutes. The "ooh las" in the chorus and backing the verses, along with frontman Cody Newman's "do do do do" singalong about 3 1/2 minutes in, make it a transcendent pop song. One of the artists the band name-drops in its promotional material is Harry Nilsson, and while "Hollawalla Omacalla Wee" doesn't sound
precisely
like a Nilsson track, it embodies his goofy spirit in the service of a great pop tune. "Can We Talk?" is a punchy rocker; "Hearts Will Roll" has a title worthy of Westerbergian wordplay and a driving, herky-jerky rhythm; "Don't Be Surprised" is a Tories-inspired power pop gem, and the closing "Ritalin", with its piano-and-horns backing and satirical lyrics, will make Ben Folds insanely jealous the moment he hears it for the first time.
Here are a couple of mp3s to grab:
Good Morning Radio
Ritalin
The EP just became available in the last few days
on CD Baby
for a reasonable $7, and if you'd rather stream than download, the two tracks above plus "Can We Talk?" are on
their myspace page
.