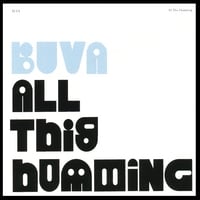 Buva is LA's Tom Wolfe, and All This Humming, his full-length debut, is a keeper. His 2003 EP
Daydream
created a bit of a splash, and All This Humming lives up to the promise of the EP.
This is high-quality softer (not quite soft) pop, and Wolfe's vocals sound like a cross between Matthew Sweet and Eric Matthews. Sonically, the music's in there as well, similar most to Sweet's balladry with some (much) lighter orchestral touches than Matthews. The first five tracks, in fact, comprise the best collection of this sort of pop that you'll hear all year, with "Heart Don't Say" and "Rolling By" particular standouts. Those five are followed by the bright jangle of the uptempo "Something That I Need to Hear", which hints at what the album might have sounded had Wolfe decided to go with power in his pop (as he did a bit more on the EP), and "Look Ahead" while have others wondering about all that humming coming from you when you sing along to its irresistible "ba-da-ba" chorus.
Despite a release date of February 6, 2007 being trumpeted on the
CD Baby page
and his
myspace page
, you can buy the disc now at the Baby, and catch a few tracks at both myspace and
his site
.