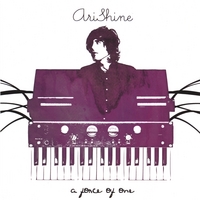 When an artist who releases an outstanding EP gets ready to unleash his full-length, there are two things I look for: 1) are the songs from the EP on the full-length? (The answer I hope to get is "no", because adding 5-6 new songs is really just releasing another EP, and often when this phenomenon is present, the new songs usually aren't as good), and 2) do the new songs live up to the standard of the EP?, as it's a lot harder to come up with 10-12 decent tracks than 4-5.
Thankfully, the answers here are "no" and "yes", as Ari Shine had one of last year's best EPs (#5 in our year-end list) with
Age/Occupation
and has now released his debut full-length, A Force of One. The comparison touchstone for Shine has been late 70s-era Elvis Costello (and "Crank It Out!" from the EP would have fit snugly onto Armed Forces, for sure) but it's more 70s Costello with a modern sheen, not unlike say, Eugene Edwards. Also of note is that the disc is produced by Earle Mankey, a former member of the legendary Sparks.
"Cooler than Me" blasts open the disc with its pounding piano and cranked-up guitars, while its lyrical content (guy apparently pushing 30 tries to pick up a 21-year old) seems a cross between "Hey Nineteen" and "(The Angels Wanna Wear My) Red Shoes", making it an unforgettable track. "Most Popular Girl In The World" almost sounds like you'd imagine if you just went off the title (i.e., vintage power pop); "She Wants It (More Than Me) features an insistent guitar riff and a Figgs-like sound, while "Beat U" stakes a different claim to the sound of late 70s new wave (think Cars) with its dominant synths.
Other highlights include the synthtastic "Party People", "Beirut 1978", which reminds me thematically of Don Henley's "All She Wants To Do Is Dance" and ironically may be the least 1978-sounding track on the disc; and "It's a Shame", which betrays a hint of jangle. No sophomore jinx here, that's for sure.
CD Baby
|
MySpace