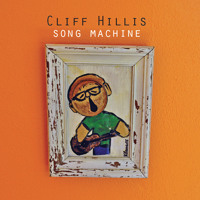 Cliff Hillis-Song Machine EP
. It's always a good year for power pop when Cliff Hillis decides to release new material, and his followup to 2012's Dream Good is this new 7-song EP which he crowd-funded. If you weren't among those who already supported the EP you won't want to waste any time adding this to your collection. Hillis is matched by only a handful in the power pop scene when it comes to pure songcraft, and the seven tunes here are confirmation from the pensive opener "Dashboard" (which builds to a great crescendo) to the would-have-been-an-AM-Radio-hit-in-the-70s "Just One More" to the jangly, Beatlesque "Tonight". And Hillis is good for one track that instantly grabs you as a favorite - on 2008's The Long Now it was "Elevator", on Dream Good it was "Keep the Blue Skies", and here it's "Turn on a Dime" with a melody both catchy and effortless. It's going to be a real Sophie's Choice to pick between this and the Peter Buzzelle I review in July for 2014's top EP.
Tallboy Records (CD)
|
iTunes
Eugene Benjamin-Photograph
. This Maryland singer-songwriter's second album isn't precisely power pop, but it's a tuneful mix of pop/rock and Americana that owes a debt to Tom Petty, George Harrison and John Hiatt and will appeal to fans of artists we've featured here like Mike Barnett. The opener "Baby Blue Eyes" is a gem with a great guitar hook in the chorus, "Cindy" reminds me of a typical Petty song about a woman, "Over Me" rocks melodically, and "Good-Bye" is top-drawer jangle rock. Put this one on your music player of choice, and it will be all about the Benjamin.
CD Baby
|
iTunes