Now the list-making is over (although I will share David Bash's exhaustive lists as usual), it's time to get 2018 in gear with a couple of releases, one that came out not long before year's end and one that came out just after and both of which feature artists you may be familiar with releasing records under names you're not.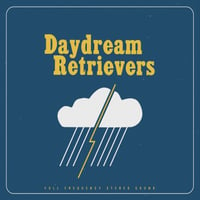 Daydream Retrievers-Daydream Retrievers
. Seeing as I often can't remember what I had for breakfast later that day, it's not a shock that I could have sworn I had this release in my top 100 last week but when I went to look up the rank I noticed it wasn't there. So better late than never to extol the virtues of the latest release from Ian Olvera, formerly of the Ian Olvera Band and Ian Olvera & The Sleepwalkers. Taking his name out of the equation entirely this time, Olvera nevertheless serves up a 9-song collection of catchy heartland power pop influenced by Tom Petty and Wilco. "Ballad of an Exit Strategy" and "Cars Can't Stop" have a bright but rootsy vibe not unlike Gary Louris' version of The Jayhawks, while "New Parade" rocks like Petty's Heartbreakers. Meanwhile, the 3-song run in the middle of the album of "Tuesday Night in America", "Right is Right" and "Hi How Are You's" channels Big Star, both in the rock stylings of the former, and the melacholy balladry of the latter two. And "Learning to Live With the End of the World" with its upbeat piano-based melody is Wilco meets Springsteen. Had I slotted this one on the year-end list, it would have been about #30.
iTunes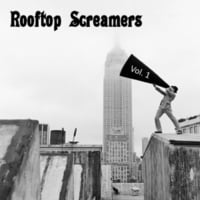 Rooftop Screamers-Vol. 1
. Rooftop Screamers is the new project of former Throwback Suburbia drummer and songwriter Mike Collins, and its 8-track debut is the first top-notch power pop release of 2018. Collins isn't a singer, though, so to bring his compositions to life he's enlisted the help of various friends to sing lead including indie pop luminaries such as Kyle Vincent and Ken Stringfellow. "Sign Me Up" kicks things off, and it's a blast to hear Vincent sing lead on a rocker that's part Queen and part Cheap Trick instead of his typical soft pop. Stringfellow, who it seems lately has guested on more releases than Michael McDonald in the late 70s and early 80s, takes the mic on "Roses Again" and it's a melodic gem with Brian May-like guitars that comes across as a lost Posies/Jellyfish mashup. But even the tracks with the lesser-known Portland-area singers stand with the big names - Geoff Metts sings on "Have Mercy", a heartland rocker, while Andrew Paul Woodworth gives "Get Outta Your Way" a Beatlesque feel. This is a fun project as Collins is a top-notch power pop songwriter, and here's looking forward to Vol. 2.
CD Baby