Wanderlust was one of my favorite power pop bands from the 90s and they did in fact
reunite in 2012
but who knows if they will ever again. So instead we have the next best thing - brand new solo albums from their primary singer/songwriters Scot Sax and Rob Bonfiglio, released within weeks of each other.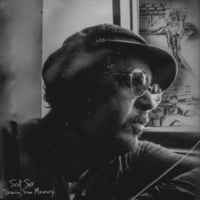 Scot Sax-Drawing from Memory
. Sax has been the consummate music professional over the years, from fronting Wanderlust and Feel to a wide-ranging body of solo work that's included everything from pop to rock to funk to country as well as being a songwriter-for-hire who's penned hits for the likes of Faith Hill and Tim McGraw. Drawing from Memory is his return to the pop/rock idiom with the emphasis on the "pop". It kicks off with "Where Do You Go to Cry?", a midtempo number that sounds like a pop standard, and continues with "I Never Loved You", a Bacarachian ballad sung with Judy Blank, followed by "Am I Still Living?", a Lennon-esque number that's classic Sax. Highlights elsewhere are the string-laden "Parade of No's" which sounds co-written by Neil Finn, the ukulele-strummed "Addicted to the Needle" (which is about his love for vinyl, not drugs) and the wistful "Used to the Idea". It's the kind of album that Harry Nilsson used to make, a type not seen much these days.
iTunes
Rob Bonfiglio-Trouble Again
. If it's straight-ahead power pop that you prefer to singer-songwriter stuff, then Sax's former bandmate Bonfiglio delivers for you with his latest solo album. I once wrote that Bonfiglio has a power pop sound that's big - big choruses, big hooks, big melodies. It's kind of a cross between indie power poppers like The Meadows and Velvet Crush and big name artists like Matthew Sweet, Collective Soul and Oasis, and the one-two punch to open the album of "Passenger Seat" and the title track makes that clear, as does "Spread This Feeling". But Bonfiglio can take things down a notch as well, with the wonderful "Gone" incorporating some Philly soul into the mix while "There Goes My Heart" sound like a top ten hit that charted sometime between 1975-1985. In fact, the whole album almost plays as a greatest hits from an alternate universe where Bonfiglio ruled the charts during that era and might be his best, most consistent album yet as well as one of 2018's.
iTunes