Nick Piunti-Temporary High
. Over the past five years Nick Piunti has established himself as one of the scene's preeminent power poppers (his last three albums finished at 7, 6 and 2 in my year-end lists) so it's not an understatement to say this was one of the year's most anticipated releases. Which leaves a couple of questions: Does it disappoint? Hell no. Is it his best? That's like asking which of your children are your favorite. Suffice it to say there will be 9 releases fighting over the top 10 this year because Piunti's accustomed spot is spoken for. Endlessly catchy and endlessly rocking, Temporary High finds Piunti at his best from the opening title track through the Elvis Costello-like "You Invented Hell" through the poptastic "If This Was Right" to "Contagious", the closest thing here to a classic power ballad. The high here may be temporary, but it's one you can return to whenever you want.
iTunes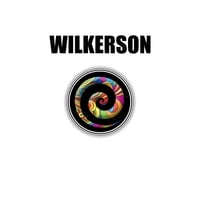 Danny Wilkerson-Wilkerson
. July 20 may go down this year as Power Pop Christmas because in addition to Nick Piunti's gem above, Danny Wilkerson has today released his debut album and it's also a very strong release. Wilkerson, who has worked with Lannie Flowers in the Pengwins among others over the years, has teamed up with Bleu who produces and co-wrote the songs here, in addition to providing backing vocals. And the power pop royalty isn't limited here to Bleu - Roger Joseph Manning Jr. plays on the record, along with New Pornographers drummer Joe Seiders and Pat Buchanan, formerly of Idle Jets and a couple of outstanding solo records of his own. And it sounds as good on disc as it looks on paper. The bouncy, catchy "Everyone Loves to Love" opens things, sounding like a cross between Bleu and Jellyfish as might be expected, "Enough for Somebody" throws horns and glockenspiel into the mix and is a bombastic delight, and first single "Let it Go Tonight" is an anthemic beauty. And the hits keep on coming: the McCartney-esque "Endless Haze" boasts a wonderful string arranagement, "Too Much of a Good Thing" almost brings to mind Bleu's L.E.O. project, and "Carry the One" is some fine power balladry.
CD Baby