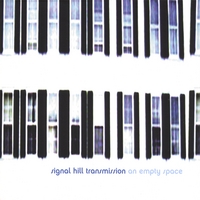 After power pop, my favorite musical genre is alt-country, which has about as loose a definition as power pop can, at least as I interpret it. When these two genres intersect, it can result in some of what I think have been the best discs of the past 10 years; think The Jayhawks' Smile, The Old 97's Fight Songs, Wilco's Summerteeth, etc. And while it may not be the near-perfection found on those discs, Signal Hill Transmission has made a similar breakthrough with their new disc, An Empty Space. This California band put out a fine alt-country disc in 2005 with Tomorrow, The Stars but An Empty Space is a sonic leap forward into a more pop-oriented sound, merging the best of alt-country and power pop.
While opener "Pipe Dream" might have fit on their first album, with its languid beauty, "Alright" announces that a new SHT has arrived with its rocking guitars and 70s-style swagger. Things don't let up with "Polyvinyl Acetate", another rocker, while "Cherry Is a Girl" is true straight-up power pop a la Velvet Crush or Fountains of Wayne. Their alt-country roots resurface with the title track, which reminds me a bit of "I've Just Seen a Face". Other highlights include "Salt In The Store", a Superdrag-style rocker, "On and Off", which sounds like one of Dave Grohl's midtempo numbers, and the anthemic closer "Ordinary". Another definite Best of 2007 contender.
MySpace
|
CDBaby
(Although the new one isn't yet available on eMusic, you can pick up Tomorrow The Stars
there
).