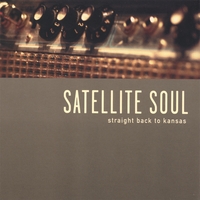 It seems like I've been on a roll lately with bands that aren't purely power pop, but have an alt-country/Americana/roots rock/heartland rock/whatever sound to them, and here's another one that's put out a damn listenable album: Satellite Soul with Straight Back to Kansas. Satellite Soul used to have a major label deal, and they were pretty much a straight-up CCM band. They're now independent, and they've gone in a more secular direction.
Listening to new stuff in a random mix on my iPod, I always note those bands or artists who seem to make me perk up when one of their songs pops up, and Straight Back to Kansas has been passing the "perk test". The insistent rocker "Visceral", the second song on the disc, will get your attention with its rapid-fire hooks reminiscent of Cheap Trick; "Crazy" and "Indiana" are great mid-tempo numbers that recall The Jayhawks, Whiskeytown and early Wilco; "Good Ride Down" wouldn't have been out of place on a Gin Blossoms disc; "Bury Me" is a roots rocker in the Walter Clevenger vein; and the closer "Everything" is a true gem, marrying a great melody with horns and "ooh la la" backing vocals.
Their
official site
has the album (or samples of it, I couldn't get it work just now) streaming, and there's the obligatory
myspace page
. The disc is available at
CD Baby
and at
iTunes
.