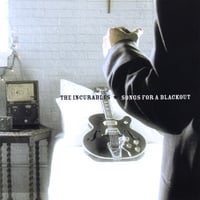 It's always refreshing when an act lets its music do the talking. If you go to the
CD Baby page
of the St. Louis' The Incurables, they give you a simple three word description: "American rock music", and in the "sounds like" box on
MySpace
, it's simply "5 dudes that have been in a lot of bands". Well, they're right on both counts. Songs for a Blackout is a brilliant example of quintessentially American rock music that does sound as played by five guys who have been around the musical block.
More specifically, their sound here is heartland-influenced pop/rock in the vein of The Wallflowers, del Amitri and Minibar, with a touch of the Beatlesque. Frontman Jimmy Griffin has the perfect voice for this type of music, lining up somewhere between Jakob Dylan and Justin Currie. Opening track "Lucky 7's" makes an immediate impression with it's "c-c-come along" refrain; "Our Favorite Place" drops in a piano-based middle eight that sets it part; the mid-tempo tracks "Anytime Soon" (my favorite track on the disc) and "Rather Be Lonely Than Sorry" could be a mashup of Joe Pernice, Paul McCartney and Cotton Mather; "Gravedance" rocks out relative to the rest (complete with handclaps); and closer "The Last Day of the Rest of Your Life" is a real stunner, a 5 1/2-minute "epic" that channels the Pernice Brothers "Flaming Wreck" and the Meadowlands' "13 Months in 6 Minutes" with a wonderful guitar outro.
This one definitely has a spot on the big year-end list, and more likely than not will be in the top half versus the bottom.