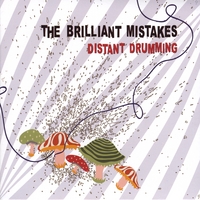 NYC's The Brilliant Mistakes (apparently named after an Elvis Costello song) are back with their third release and first in several years with Distant Drumming. They're a bit of a hybrid - ranging from Costello/Squeeze-like pop to Jayhawks-like Americana and all points in between. Whatever the underlying sound, their tunes reveal an assured songcraft that makes Distant Drumming a special release, and they even have Mike Viola helping out on a couple of tracks.
Things start off on the rootsier side with "The Day I Found My Hands" and "Monday Morning (Sky Above You)", two tracks whose easygoing charms will have you humming along. Their eclectic sound continues to unfold with the light bossanova-meets-Brian Wilson pop of "Becoming" follows, while "Good Year for a Change" is a Beatlesque piano-based number not unlike Oasis' "Don't Look Back In Anger".
Elsewhere, "The Circle's Not Broken" and "The Words" sound as if Ben Folds were fronting The Band, and the pop magic of "Time In The Night" is where the Squeeze/Elvis Costello comparisons come in. Album closer "Wake Up Your Heart" sends things off a high note, with a Jeff-Tweedy-in-ballad-mode vibe. With its winning mix of a variety of pop styles, picking up Distant Drumming might be most brilliant mistake you'll make.
CD Baby
|
MySpace