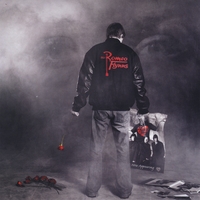 Detroit has a long and proud rock'n'roll tradition, and The Romeo Flynns are the latest entrant from the Motor City. Their debut disc, Pictures of You, manages to bridge the divide between rock and pop in the context of a concept album about one of music's favorite subjects, a relationship gone bad.
After a "conversational" interlude that sets the stage, the title track kicks in, and it's a great display of their kind of sound, one that borrows from the poppier side of Cheap Trick and KISS. Although the track is a bit on the long side at 5+ minutes, the extended time allows them to even work in some sax near the end, a nice touch. "Gonna Feel Alright" is a tour de force of famous rock sounds - from the glam stomp of the beginning to its Jerry Lee Lewis-piano pounding to its horn section. "A Better Man Than Me" supplies more high-energy rock'n'roll, "Wasting My Heart" is outstanding jangle-pop that calls to mind another Detroit native, Marshall Crenshaw, and "Just Fade Away" is high-grade power pop a la The Shazam. Frontman D. Lawrence Lee can also handle the slower numbers - "Every Time We Part" and "Kristine" are as good as the rockers, and the latter, with its swelling strings and piano, is reminiscent of KISS's "Beth". They close matters out with a fine cover of The Kinks' "Better Things".
It's always refreshing when a band shoots for a big sound, and The Romeo Flynns do just that; thankfully, their reach doesn't exceed their grasp here, and rockers and poppers everywhere should get a kick out of this disc.

CD Baby
|
MySpace