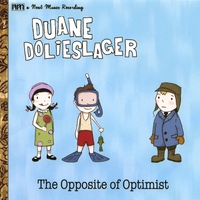 It's kind of fitting that I chose today to feature Duane Dolieslager's The Opposite of Optimist as the CD of the Day, as today also marks the release of two Michael Penn releases: one, a
best-of
, and the other a re-release of 2005's
Mr. Hollywood Jr. 1947
(our #4 disc of that year) with bonus tracks. Why is it fitting? Because Mr. Dolieslager has managed to put out the nearest approximation to a new Michael Penn album with this disc, and had earlier received raves for his cover of "I Can Tell" from the online-only Penn fan tribute Look What The Fans Drug In.
Optimist opens with "Mad Dash For The Door", the kind of dense yet melodic Revolver-influenced rocker that Penn perfected with "Try" from 1997's Resigned. Following is "Carousel", a brilliant reflective midtempo number that recalls Penn classics like "Out of My Hands" and "Whole Truth". "Like Day & Night" is another uptempo rocker in the vein of "Evenfall" and "On Automatic", as I continue my quest to compare each of these tracks to those of Penn's. Oh, and did I mention "A Long Trail of Enemies" reminds me of "Bunker Hill" crossed with "A Bad Sign"?
Elsewhere, the jaunty, somewhat baroque "Nowhere In Record Setting Time" has a strong Jon Brion/Jason Falkner/Jellyfish influence, while "Nothing's New" is more straightforward pop/rock in the style of The Wallflowers. All in all, an outstanding disc, and have I made it clear that if you like Michael Penn, you'll love this album?
CD Baby
|
MySpace