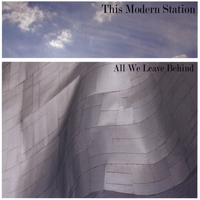 Nashville strikes again. The home of so many artists that have brought us quality releases in 2009 gives us This Modern Station, whose debut disc All We Leave Behind is a melodic breath of fresh air. They tread that fine line between power pop and Americana, sounding at times like an American Teenage Fanclub and at others like early Wilco.
The driving opener "Long Overdue" sets the tone, with hooks galore and a stomping beat that's reminiscent of Being There-era Wilco tracks like "Outta Site (Outta Mind)" and "Monday". "Next Best Thing" follows in the same vein, while the midtempo "Just Another Heartache" recalls The Favorites (who placed in our top 20 last year) and Red Guitar. "Evangelina" is another driving number, reminiscent of Todd Herfindal and The Meadows, and "Sunday Morning" brings the rock.
Kicking off the second half of the disc, "Ruby" finds the band into a bit of pop-noir, telling the story of a wayward woman to a moody melody not unlike The Smithereens' "Blood & Roses", while "Playing With Fire" proves the boys can handle the ballads as well. Closing things out, "I Think I'm in Love Again" is another infectious rocker, and "The Highway Never Ends" is quality straight-up Americana. "Popicana" fans, and those who liked the later-day Gary Louris-led Jayhawks are going to flip for this one. With nary a duff track to be heard, this one's a definite year-end Top 20 contender.
CD Baby
|
MySpace
|
iTunes