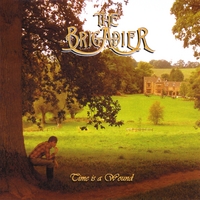 The Brigadier-Time is a Wound
. The prolific Matt Williams (known to you and me as The Brigadier) is back with a new full-length, and Time is a Wound follows in the footsteps of last year's
The Rise & Fall of Responsbility
. Williams serves up another quality slice of pastoral pop, the kind of Brian-Wilson-with-an-English-sensibility in the vein of Andy Partridge and The Milk & Honey Band. Highlights include the upbeat opener "I'm Gonna Make You Mine Missy", which throws a bit of Northern Soul into the mix, the jaunty "Oh, Paddington", and the dreamy "Something Good". Not pastoral at all is "Why Don't You Love Me?", which throws in synths and a somewhat funky beat. You won't get that from Andy Partridge.
CD Baby
|
MySpace
|
iTunes
Andy Kirkland-No Name Gallery
. Kudos to Bruce at Not Lame (or was it Ray at Kool Kat?) for unearthing this Neil Finn-esque gem. Kirkland's an Aussie who's managed a disc of finely crafted midtempo pop that's a real treat. The opener "Wey & Dry" could easily pass for a Finn original, especially with Kirkland's voice quite similar to the Crowded House frontman's. But this isn't a slavish Crowded House imitation, as the disc's standout "That's When This Boy Sleeps" demonstrates. An uptempo number with Motown overtones, it recalls The Pearlfishers' "Womack & Womack" as well as Belle & Sebastian. Other highlights include the lovely "I Called You Up Today" and "Asleep in New York", which both namechecks George Costanza and quotes Supertramp. Now that Shane Nicholson's gone country, the opening for next-best-thing-to-Neil-Finn needs to be filled, and Kirkland sounds a good a bet as any.
Not Lame
|
Kool Kat
|
MySpace
|
iTunes