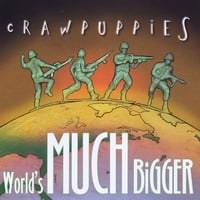 Crawpuppies-World's Much Bigger
. The second album from this Indiana band (after 2004's Peaceful Amnesty) finds them on the dividing line between power pop and classic rock, doing justice to both genres. They actually remind me quite a bit of Vegas With Randolph, a band reviewed earlier this year that a lot of folks took a shine to. There's plenty to like here: the rocking title track, the jangly "She Comes Lovely", the classic power pop of "Owe it All to You", and the honkytonk classic rock of "Sunflower Girl". They even throw a couple of fun tracks out at the end of the album: "So Mundane" is an ambitious 7 1/2 minutes number that's broken into three segments, and "Masquerade" starts out as a Jellyfish-style number that segues into a "Revolution 9"-like freakout. With 14 tracks, there's plenty to like here.
CD Baby
|
MySpace
|
iTunes
The Alice Rose-In a Daze EP
. After a couple of fine albums that made this band an AbPow favorite, they've snuck up upon us with a new EP, and it's a dazzler. "Awaken You" is a catchy number that might be the most immediate thing they've done - imagine Elliott Smith with a spring in his step (yes, back when he was alive). "Black Tresses" and "Silent Mary" are another two of their Jon Brion/Michael Penn-styled numbers that made their first couple of discs great, and the title track is lovely and melodic (see the video below). Apparently, the EP is only available from Kool Kat, so you won't have to figure out which retailer to get it from.
Kool Kat
|
MySpace