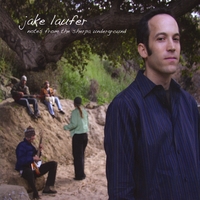 Jake Laufer-Notes from the Sherpa Underground
. DC-gone-California's Jake Laufer is a singer-songwriter with hooks, lyrics and a strong pop sensibility, and with Notes from the Sherpa Underground (Sherpa Underground being the name of his band), his first disc in nine years, he puts it all together. Reminding me of a cross between Nick Pipitone and Elvis Costello with a bit of Matthew Sweet in the mix, Laufer pumps out one quality tune after another. The standouts here include "Only One in Town" (think Costello fronting the Gin Blossoms), "Subway Girl" (Tommy Keene meets the Smithereens), the mod beats of "Song Called Nora", and the gorgeous "The Only Way". Plus, he throws in a revved-up, rocking cover of "Hungry Like the Wolf". What more can you ask for?
CD Baby
|
MySpace
|
iTunes
|
Amie Street

"Only One in Town" mp3
John Shaugnessy-Re-occurring Dream
. If you're looking for a down-to-earth, classic rock-infused slice of power pop, Philadelphia's John Shaughnessy is your man. Shaughnessy enlisted the Philly power pop mafia (Smash Palace's Stephen Butler and IKE's Brett Talley produce) to help him out here, and it's a fine collection that will appeal to fans of those artists as well as Tom Petty and Collective Soul. The acoustic-based title track is a treat, and the uber-catchy "Feelin' Good Again" hits all the high notes. Other key tracks include the upbeat "Dorothy Reminds Me", the heartfelt fallen soldier ballad "Next of Kin", and the 70's rock of "Chasing the Wind". You'll be glad to have these tracks re-occurring on your iPod.
Not Lame
|
MySpace
|
iTunes