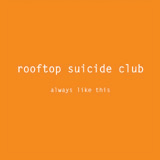 With as much as I listen to, sometimes I don't give discs a full listen or enough of a chance or otherwise in some manner overlook some quality releases. Normally my listening consists of stuff I've acquired the last 4-6 weeks on shuffle play, but every weekend or two I fire up all 16,000 songs on shuffle on my ipod, which I was doing this morning. About a dozen songs in, I hear this
incredible
track that doesn't sound familiar. Who is this? I get up and go over to the stereo, and it's Rooftop Suicide Club's "If I Could Tell The Truth". And then I remember the album from last year, and iTunes even said I last heard this song on December 1. Guess I must have not been paying attention or something.
Anyway, RSC is a power pop band out of New Bedford, Mass., and they're on the best-named label I've seen around: Stop, Pop & Roll. They do a good job of melding numerous well-known power pop influences - they have a modern sheen about them not unlike Rooney or Fountains of Wayne, but also remind me a lot, especially in the harmonies, of Teenage Fanclub. Leadoff track "The Bones That Kept Me Alive" is a good example of this dynamic, combining guitar crunch with a heavenly chorus. "Plea For My Life" is another that would fit nicely on a TF album, and aside from the plaintive synthesizers, "Our Ride" sounds like a lost Posies track (or perhaps something from a Ken Stringfellow solo disc). I love the lyrics of "Indie Girl", a plea to a hipper-than-thou girl in which our narrator begs her to drop the posing and trade in her Dashboard Confessional for some Air Supply, complete with horns that sound borrowed from Beulah's The Coast Is Clear. And then nearly buried at track #12 is the aforementioned "If I Could Tell You The Truth", which starts off with a Figgs-like guitar opening but quickly moves into highly melodic territory. With Teenage Fanclub in mind, the song almost sounds like a cross between "Neil Jung" and "What You Do To Me".
There are a couple of mp3s to grab:
Our Ride
Arizona
but unfortunately "If I Could Tell You The Truth" isn't one of them. The good news, though, is that the entire album is available
on eMusic
, which also serves as the best place to sample it.
Not Lame
has it for sale. Normally I'd be linking to
their myspace page
for samples, but they have some newly recorded demos on the site which I have yet to listen to (but I will be). And remember, as is pointed out on
their label site
, The Rooftop Suicide Club is a band. It is not an actual club. Please do not commit suicide.