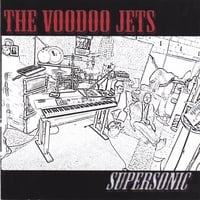 Wilton, CT's The Voodoo Jets are an interesting case. Their claim to fame is that they provide "unabashed pure power pop guitar-driven rock & roll--without the guitar". Unlike the Ben Folds Five, which also went sans guitar, it actually sounds like The Voodoo Jets are using guitars. The difference is that the Jets play the keyboards through guitar amps, and keyb meister Micah Sheveloff plays the solo parts as if he were playing a guitar.
Whatever the gimmick, it's meaningless unless the songs are quality. And for the most part the Jets come through, with a sound that's quite reminiscent of Jet, Oasis, with some Cheap Trick and Kiss throw in for good measure. Bassist and frontman Francesco Perrouna has the right mix of attitude and sneer in his voice to follow in the footsteps of these bands, similar to Foster Calhoun of The Mains, of whom
we spoke recently
. My favorite tracks on the disc are the opening two: "Radio" and "Wake Up", which bring the rawk.
Here are some mp3s to grab:
Spaceman
Big Black Machine Gun
Cold Outside
Signs of Life
You can also stream "Wake Up" at their
myspace page
, and the rest can be sampled (and bought)
from CD Baby
. So check them and listen to the voodoo that they do so well.