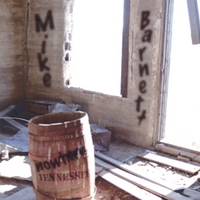 OK, I've built up a bit of a backlog of good discs that I need to start blogging about, and over the next several days I hope to get several posts up. This one I've come to be inspired to blog about much the way I have for many others: by having it pop up randomly on the iPod.
I'm speaking of Mike Barnett's Nowhere Tennessee, a somewhat unassuming but quite tuneful sophomore effort from this Missourian. Barnett has a real interesting sound; it's kind of a mix between classic 70s-style British pop and rootsy American pop. So at times here, like on the opener "I Hope", he sounds like solo George Harrison (Barnett in fact had a song titled "George Harrison" on his 2003 debut Shoes & Gadgets, and "I Hope" reminds me of "Devil's Radio"), and there's also a Joey Molland/Badfinger influence working here as well. But at other times, he sounds like a poppier Steve Forbert on the title track and "My Fault, My Bad". Other influences/similarities I hear are Bobby Sutliff, Tom Petty, and Walter Clevenger.
If Barnett has his own website or myspace page, he's keeping them pretty well hidden, so I'll direct to you to the CD Baby page for Nowhere Tennessee
here
. I don't see the album on any of the digital download services, but Shoes & Gadgets can be found
on eMusic
(haven't checked that one out personally yet, but I will be). My recommendation here, though, is to go Nowhere fast.