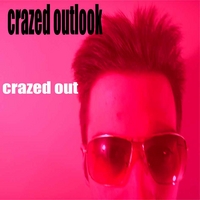 Crazed Outlook are four guys from Pennsylvania, led by frontman Matt Crazed (that
can't
be his real name), who describe their sound as "Elvis Costello meets The Killers". I hear a lot more of Elvis C than the Killers, which isn't a bad thing. Crazed Out is the title of their latest opus, and it's definitely worth a spin.
Crazed (the singer) sounds quite a bit like John Wesley Harding, and the opener "Spellbound" wouldn't be out of place on one of Harding's more rocking efforts. "Karma" is a great mid-tempo number with a bit of jangle. They then break out the horns on "Undateable", which has a late-70s Graham Parker pub-rock vibe, while "Pop Diva" is their sneering take on the Britneys, Christinas and Jessicas of the world ("Who cares about her when she's 25?").
Check them out
on myspace
and stream "Spellbound", "Karma" and "Don't Kiss Me", and you can sample the rest and grab the album
at CD Baby
. If you're a fan of any of those acts I've mentioned here (Elvis C, JW Harding or Graham Parker), this one'll be right up your alley.