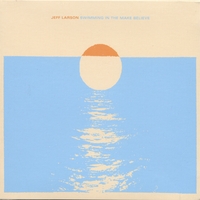 Some of you who perused
my top 33 1/3 of 2006
may have noticed a few of the discs didn't have links to other posts on the site extolling their virtues. One of those was Jeff Larson's Swimming In The Make Believe, which clocked in at #24.
Rather than try to be eloquent and get into a song-by-song breakdown, I'll just keep it simple. This is the best soft pop, California pop, sunshine pop, Eagles/America/Beach Boys-influenced record I've heard in a long, long time. One great track after another, and if any of this sounds remotely enticing to you, buy the disc. There's no pretension here, no grand artistic statement, just a disc with cover art that has the sun setting over the ocean and song titles like "You Remind Me of the Sun", "Southaways", "Summer Fades" and "Leaving California". There's going to be a new America album coming out later this year, and if it's half as good as Swimming In The Make Believe, it'll be comeback album of the year. Meanwhile, it's no coincidence America's duo of Gerry Buckley and Dewey Bunnell play on the record as well as Chicago's Robert Lamm. So if it's a pedigree you need, that should say a lot as well.
Where to sample? The best place is probably either at
CD Baby
or
Not Lame
. It's not on eMusic right now, but his EP release from last year on the same label,
Two Part Confessional
, is, so I imagine it's a matter of time before it's available there. So if you want The Eagles without the misogyny or America without the muskrats, Swimming In The Make Believe is the disc for you.