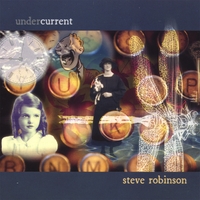 Today is a special day. Nah, nothing to do with Friday the 13th or anything like that. It's a day I get to feature an artist from my neck of the woods, the Tampa Bay area of Florida. Sure, we're known for the beaches, the weather, Super Bowls (including one won by the Bucs), a Stanley Cup for the Lightning, and the strip clubs of Dale Mabry, but one thing the area isn't notable for is a strong power pop presence (not to slight the late Barely Pink or
The Ditchflowers
, whose Ed Woltil helps out here). For example, I couldn't
do what Gary Miller does
and start an exclusive Tampa Bay Powerpop Blog; my posts would come around even less frequently than they'd have done lately.
Anyway, this is a rather roundabout way of introducing one of the better discs of 2007 that I've heard, Steve Robinson's Undercurrent. Robinson is an English expatriate who was a member of The Headlights, Roger McGuinn's backing band, and his sound here straddles the divide between folk and pop without ever losing sight of melody. Even within that ambit, there are a variety of sounds here. Opener "Wooden Hill" leans more to the pop side, with a melody and sound that reminds me of a stripped-down "No Myth". "Please Emmaline" is another winner, a catchy "Bo Diddley"-type number, while "Love Is Real" is as Beatlesque as its title implies. Other standouts include the uptempo "Wasted and Waiting"; "Forget About Love", the disc's rockingest track; "Class Clown" which also reminds me of Michael Penn, and the closer "I'm In Trouble (Again)", which wouldn't have sounded out of place on Bob Evans' Suburban Songbook.
It's too bad this missed the cut for my Top 50 list, as I had just received the disc while compiling it. Rest assured, it will be near the top when the year-end Top 100 rolls around, and if you're looking for something new and different to pick up, grab a copy of Undercurrent. And not just because Steve Robinson is my homeboy.
CD Baby
Side Note: Robinson's first solo release, the fine Away For The Day, is available
on eMusic
- it includes "The Golden Age of Steam", the best train song since, well, Al Stewart's "Trains".