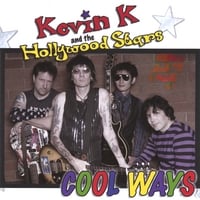 I generally always include the album cover for each disc I feature as CD of the Day; picutres always liven up a site and it's nice to keep the visuals in this age of digital downloads. But sometimes the album cover serves more than a decorative purpose. Quite often it can almost serve as a substitute for the review itself; in many instances, you
can
judge a disc by its cover.
One look at the cover of Kevin K's Cool Ways above and you can pretty much guess the sound. This is old-school power pop. And I mean "old school", as Kevin's been around since the beginning of the 1980s and Cool Ways is his 16th disc. Nevertheless, his profile in the power pop community has been low (no sign of him at the Not Lames and Kool Kats, although he seems to be in popular in Europe as evidence by a best-of released in Europe). I'm not sure why, because if Cool Ways is indicative of the rest of his catalog, we've been missing out on a good thing.
"She's Got The Look" and the title track open the album in highly melodic, rocking fashion, reminding me quite a bit of Silver Sun. "Makeup and Breakup" has a Cheap Trick feel, while "Getaway" borrows a line from The Replacements' "Talent Show" ("feeling good from the pills we took") and brings in some sax. "Night of the Living Dolls" has more of a punk feel, and although Warren Zevon beat him to the topic 20 years ago with "Detox Mansion", "Rehab" is still a searing sendup of pampered Hollywood stars and their addiction to rehab.
Just listen to the samples at the CD Baby and wait for the smile to come to your face. Cool Ways certainly is, and you'll be asking yourself why haven't I heard of this guy before?
CD Baby
|
MySpace