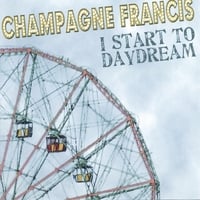 From the first hooky chorus of "Old Vampires", the leadoff track from Champagne Francis' sophomore release I Start to Daydream, you know you're in for power pop goodness, and the rest of it doesn't disappoint. CF are from New York City, but they sound like they hail from somewhere more sunny like California or Georgia, as they have kind of a west coast pop meets Athens, GA jangle feel. Although neither are from California or Georgia, the closest analog I hear is a combination of The Merrymakers and The Connells.
The first five tracks on this disc are as good as any you'll hear this year, capped off by the rocking "Burned to the Ground". The rest aren't exactly chopped liver either, especially "High Comedy" and the jangly "Walter". Listen at myspace
here
, sample more tracks
at CD Baby
, and buy it
at Not Lame
. You'll definitely get a kick from this Champagne.