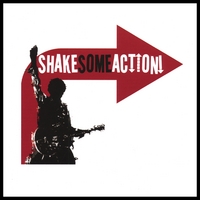 If the phrase "Shake Some Action!" sounds familiar to the power poppers out there, it's because it's the name of the classic track by the seminal power pop band The Flamin' Groovies. Shake Some Action! is the brainchild of James Hall, born in Australia, based in Seattle, and late of The Jeunes. Aside from the obvious Flamin' Groovies influence, this is classic British-flavored late 70s/early 80s sounding power pop, sounding as if it should have been released on Stiff Records. Hall's voice is perfect for the sound, recalling Ian Dury as well as Ian Brown.
There really aren't any subpar tracks on this disc, but standouts include the opening triumvirate of "Sound of Your Mind", "Complicated" and "I Can See Where This Is Going Now", which can be best described as "punchy power pop". Other highlights include "Not Even Close" which manages to be jaunty and sneering at the same time, "Couldn't Help Yourself", which sounds like a lost La's track, and the absolutely brilliant "Someone Else's Friend", which jangles like there's no tomorrow and boasts an indelible guitar hook.
Sample and buy at the usual suspects:
CD Baby
,
Not Lame
,
Kool Kat
,
MySpace
.
SIDE NOTE: Although SSA! the album is primarily a one-man undertaking by Hall, the touring version of the band includes power pop renaissance man Gary Miller of The Scheme, who plays bass and also runs the outstanding
Seattle Powerpop Blog
. Hats off to Gary for being an excellent musician and blogger; by contrast, my musical ability is primarily limited to singing The Beatles' "Good Night" to my 4-year-old each evening when he goes to bed.