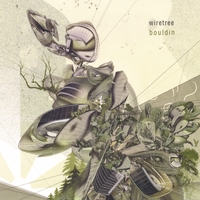 Here's another early contender for Best of 2007 honors: Bouldin, the long-awaited (by me, at least) full-length debut of Wiretree, whose
2005 EP
was a real favorite of mine.
For those who missed the EP, Wiretee (actually Kevin Peroni) has a somewhat idiosyncratic sound, best described as somewhere between Elliott Smith and Brendan Benson, as well as reminding me somewhat of two of my true favorites, Supraluxe and Derby. To make it simpler, if you're familiar with The Smithereens' classic "Blood and Roses", you'll have a great idea of the template for the "Wiretree sound".
Things start off with "Big Coat" (the track I
cajoled
Peroni into posting over the summer on his
myspace page
in full-length form), an excellent shuffle that's instantly catchy. Meanwhile, "Secret Law" sounds like Tom Petty meets The Pernice Brothers; "Feel Me" has that "Blood and Roses" feel to it; "Don't Need It" is an untempo marvel that has an early Posies sound; "Notion" is a great keyboard and acoustic guitar-driven number; and I'm not sure I'll hear a more beautiful melody the rest of the year than the one belonging to "Whirl", although the closing track that follows it, "Summercity", comes damn close.
Where to listen? If you want to hear the whole thing, it's on
Rhapsody
. You can listen to up to 25 tracks without giving any credit card info or signing up, and it'll be worth using 9 of those on this disc. Five of the tracks can be streamed
here
, while a sixth ("Big Coat") is on the aforementioned myspace page. Right now, the only place to buy it is from the
Wiretree site
, where it's $11.99 shipped.