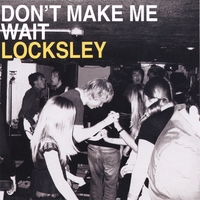 We've discussed Locksley
before
(unfortunately the EP in question is no longer on eMusic, for reasons that may soon become clear) on this site, and now they've just released their latest full-length, Don't Make Me Wait, yet another contender for Best of 2007 honors. What makes Locksley special is the fact that they have the potential to transcend the power pop genre in terms of success and recognition, having already received exposure via MTV, and the fact that they have youthful appeal going for them, something usually lacking in this genre normally dominated by 30 and 40-somethings (and beyond). They manage to capture the sound (and much of the spirit) of early period Beatles without sounding hopelessly retro, and with some of the hype they're getting (plus note the Arctic Monkeys-like cover art), they stand a good chance of being one of 2007's "buzz bands".
The core of the disc comes from the EP linked to above, and to quote myself:
(it) starts off with the absolutely fab "Into The Sun", a great evocation of early-period Beatles. "All of the Time" is a slower number in the vein of "If I Fell" that would make Paul proud, and "She Does" is a powerful rocker that reminds me of Jet's "Are You Gonna Be My Girl?"
The new stuff is oustanding as well: the title track both rocks and is danceable; "Let Me Know" would fit in perfectly on Meet The Beatles (it beats listening to Smithereens covers), and "My Kind of Lover" is primo British Invasion pop.
Apparently, they've discontinued their back catalog of the EP and Safely From The City, their first full-length, so to get the Locksley experience, you'll have to pick up the new one, which is now conveniently available
from CD Baby
. And four of these tracks are streaming at
their myspace
, so start right there if you're uninitiated.