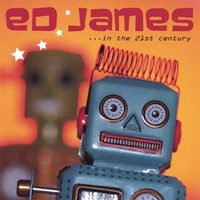 I know I'm a little late to the party on this one, but Ed James' ...In The 21st Century is either the last great power pop album of 2006, or one of the first for 2007. (It came out in early-mid December, but I didn't have a chance to process until around the 1st, so it's in the 2007 pile for me.) Ed's reputation precedes this disc, with great releases like Meet Ed James!, Big Time and Poprocket already under his belt. But in case you're new to Mr. James, you're in for a treat: his records are power pop in the classic sense, always hooky, always melodic, usually a bit loud, and never boring. And In The 21st Century is no exception.
It doesn't take very long for the hooks to sink in: "Out of This Town" opens with some guitar crunch, while "She's The One" follows with jangly goodness. Other highlights include "Miss Polly", the story of a fading beauty; "And Then She Smiles", whose chorus will make
you
smile; and the unashamedly geeky "Star Trek Girl", which boldly goes into the Trek references where no song has gone before.
Check it out and/or buy:
CD Baby
|
MySpace
|
Not Lame
|
Kool Kat