I have several discs I've been meaning to mention, so I'm going to clear them out today via blurb rather than full review.
Yusuf-An Other Cup
. Those of us who love 70s soft rock have great news: The Cat is back! Cat Stevens, n/k/a Yusuf Islam, as many of you know, has returned to a secular sound with An Other Cup, and in many respects it's like he never left. Recommended tracks: "In The End", "One Day at at Time", the cover of "Don't Let Me Be Misunderstood" (a rather appropriate track given his ability to
stop Transatlantic flights
). Sample and watch a video
at Amazon
.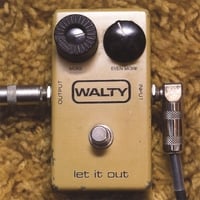 Walty-Let It Out
. Walty is San Fran's John Walter, and this is his second disc, which comes down somewhere between singer/songwriter pop and power pop. Bruce at Not Lame described his first disc as "Sounding like a lost great Swedish pop band from the 90`s(think early Merrymakers, Beagle, The Grass Show) combined with the more modern sounds of Phantom Planet and Rooney after listening to lots of Crowded House and Split Enz", and this is more of the same. Standout tracks: "Coverband" (a sly reference to Walter's own work in the 80's cover band Tainted Love), "2 Lovers", "Motorcycle Ride".
CD Baby
|
MySpace
The Hard Left-The Avant-Garde Sounds of The Hard Left
. The Hard Left hail from Minneapolis, and they have the garage power pop sound the area is known for (i.e., The 'Mats). This release is an 8-track, mini-CD that's all killer, no filler, with the top tracks being "Lover Girl", "Who's She Gonna Turn To?" and "Take It Out on Me". They're graciously streaming the whole disc
at their site
, and it's available for purchase at Not Lame and Kool Kat. If Steve Van Zandt isn't featuring these guys on his Underground Garage, it's probably because he hasn't heard them yet.