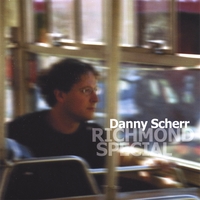 No, Danny Scherr isn't from Richmond (he's actually from San Francisco), but his debut release is most certainly special. It's an expert evocation of the 70's California sound, with enough punch to keep it from being overly mellow.
The rocker "Always Goes That Way" starts things off, and it'll have you checking the credits to see if
Danny Kortchmar
played or produced the track. The wistful mid-tempo "Fade Me In" follows, and if you close your eyes, you'll see Laurel Canyon. "How I Lost a Day" has the quintessential "western rock" sound to it, and "til I'm Love Again" reminds of the rare James Taylor rocker, "Honey Don't Leave LA". By the time you get done with Richmond Special, you'll be wondering why there isn't an Elektra Records logo on the CD.
Sample and buy it for a reasonable for $10
at CD Baby
. And he has a
myspace page
streaming four of the tracks. If any of this sounds remotely appealing to you, grab it.