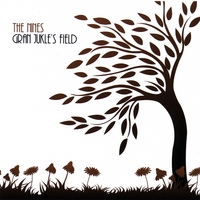 It's probably not an understatement to say that The Nines' Gran Jukle's Field might be the most anticipated power pop release of 2007; after all, 2006's Calling Distance Stations was perhaps the most well-received disc of the year in the power pop community, placing #1 on the year-end Audities list (as well as a pretty high #23 on my list). So the question on everyone's mind is "Does it live up to expectations?" In a word: no. But that's not a bad thing. Whereas
Stations
had a fairly cohesive sound (80s Moody Blues meets XTC meets ELO), Gran Jukle's Field is an exercise in pop eclecticism - their motto here could have been Monty Python's "And Now For Something Completely Different".
It's perhaps no accident that Bleu (of recent L.E.O. fame) and Jason Falkner were involved with this disc, as opener "Insanity (The Sanest Thing You've Got)" is a rollicking delight that's pure Jellyfish in a McCartney-meets-Queen way. While Falkner's stamp might be all over that track, Bleu's is apparent on the track he produced, "Dance Just For Me", in which he lends his LEO production sound to Steve Eggers' plaintive tale of being in love with a stripper. Meanwhile, Eggers & Co. induldge their love of smooth R&B/disco-inflected pop with "Don't Be a Fool" and "I Am Lost", the latter of which would have fit in unnoticed on the last Scissor Sisters disc. Not your style? Then try "Chantel Elizabeth", part drinking song, part sea shanty. And if you act now, you also get the bossanova of "Safe" (which reminds me of The Pernice Brothers' "Cronulla Breakdown"), the pastoral-era-Kinks sound of the title track, and the countrified "Find Our Way Back Home". Finally, for those who wanted Calling Distance Stations II, you have a quartet of tracks ("Eileen", "She Hijacked Me", "Virginia" and the "Sexy Sadie"-ish "Monotony's Song") that could be packaged in a red can and sold as Nines Classic.
And after all that, I just have to say "Wow". Although you may get genre whiplash from listening to it, every song on the disc is excellent, and I definitely see them higher than #23 on my 2007 list and an Audities repeat at #1 wouldn't shock me either.
CD Baby
|
MySpace