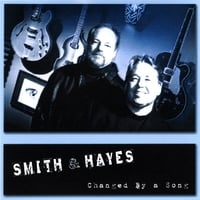 I like to kid quite a bit about some of Bruce Brodeen's catchphrases on Not Lame, such as the variations of "highly recommended" that he uses. Another one he uses quite a bit is "major find", when unearthing an obscure or older title that should have received more publicity (and he does a fine job in that department). Anyway, "major find" is the phrase that kept coming to mind after listening to Smith and Hayes' Changed by a Song, because this
is
a major find for fans of David Grahame, and by extension Emmit Rhodes and McCartney. (In fact, I almost broke out the siren again, but I don't want to overuse it.) Like Grahame, Clay Smith and Bill Hayes are music business pros who know their way around a song as well as around a studio.
The title track kicks off the festivities, and it's a fine tune with great harmonies and Revolveresque guitars. Next up is another standout - the Wilburyish "You Be The World". But things really go to another level with "Nothing But Love", a slow-building ballad that Grahame fans will do a cartwheel over (and which features a timpani). Other standouts include "Before You Know It", cut from the same cloth as "Nothing But Love"; "Directions Are Inside", which gives off a bit of a Rutles vibe; "Child of Yesterday", which features the best middle eight on the disc; and the Nines-ish "Last Thing I Do". And you even get a "Her Majesty"-like closer with "It Must Be Love", strummed on a ukelele on what sounds like an old scratchy 78.
There isn't a bad track on the entire disc, and someone's going to have make room in my top 20, if not top 10, for this one on the year-end list.
CD Baby
|
Streams from Official Site