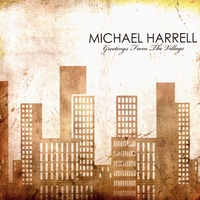 I almost included this in yesterday's roundup, but decided it was worth breaking out by itself. Michael Harrell has himself a contender for my year-end top EPs list with Greetings From The Village, an auspicious debut for the 21-year-old Nashvillian. Harrell references The Kinks and Teenage Fanclub in his self-description, and to that I can add Brendan Benson, and even a hint of Bob Evans.
The disc starts rather perversely with a track titled "The End", but it sounds like more like an opener than a closer; the sound here might best be described as AC Newman meets Edmund's Crown. "A Different Kind of Love" is a more straightfoward power pop track that mixes in electric piano to nice effect and yields the Teenage Fanclub comparison. And it's "Pretty When You Cry" that reminds me of Bob Evans with its pedal steel pop. "O Father" follows, a song about Harrell's faith, which is a good a time as any to mention that Superdrag's John Davis helped out on the disc, and this track would have fit nicely on Davis' solo debut. Meanwhile, "Another Day" isn't a McCartney cover, but it shares his pop sensibility, as does the acoustic closer "Private Joke".
A very promising debut, and here's hoping for a full-length next year.
CD Baby
|
MySpace