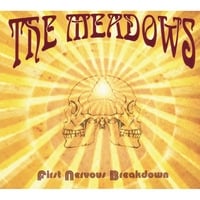 At the risk of sounding too technical, it can be said that some artists just have "it" - "it" being a certain sound, or a way of coming across that sounds natural, effortless, and authentic. The Meadows have "it", and their sophomore release First Nervous Breakdown is more of their radio-friendly pop/rock that you'd hear on the radio if it were friendly to independent pop/rock acts.
Following up on
2005's excellent self-titled debut
, this San Francisco band ups the ante here with 10 gems that will appeal across the pop/rock/country spectrum from fans of Oasis to The Jayhawks to The Gin Blossoms, etc. Opener "Knowing Don't Change a Thing" is emblematic of their sound, in a kind of a Tom Petty-meets-The Rembrandts way. "Wheels on the Road" is enjoyable country rock with a chorus reminiscent of "Already Gone", while "Paralyzed" is a slow-building piano ballad that reminds of the some of The Nines' slower numbers. Meanwhile, "Give It Up" wears its anthemic Oasis sound on its sleeve, "Take Me Down" is top-shelf jangle pop, and the closer "Forever California" truly embodies the sound of their home state. An instant top 10 of 2008 contender.
CD Baby
|
MySpace
|
eMusic