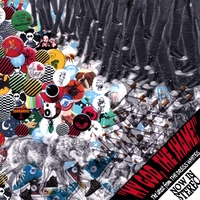 Toronto's (by way of Montreal) The Dress Whites are a band that defies categorization. Blurring the lines between power pop, indie pop, and rock and roll, their debut full-length My God, The Shame! is an instant winner that will appeal to anyone who likes good, tuneful music.
After the instrumental opener "A Liberated Woman Will Destroy Us All" (which along with the closer titled "O'er The Transom of the Susan Constant" which might lead you to believe you've stumbled across a Decemberists disc off the titles alone), "Give Up The Ghost" kicks in with an upbeat melody, stacatto guitars and a call-and-response chorus that lets you know you're not in Kansas any more. "Spongecake" and "A Great Assault #8" are power-popping numbers that recall The Shazam, while "The Whale" and "Blood Work" keep up the pace in a Fountains-of-Wayne-meet-the-Rembrandts way. Meanwhile, "Two Times The Hurt" is a straight-ahead power pop gem that recalls fellow countrymen Sloan.
So get fancy and put on The Dress Whites; there's no shame in enjoying this one.
CD Baby
|
MySpace