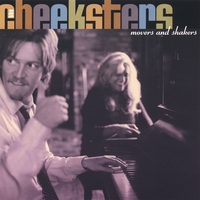 The last year or so has been good for boy/girl indie pop bands. While the New Pornographers are the exemplar of the subgenre, recent releases by such acts as Georgie James have been outstanding as well. Which brings us to The Cheeksters, the latest entrant into this derby, and their fine new disc Movers and Shakers.
The Cheeksters are the Asheville, NC duo of Mark Casson and Shannon Hines, and this is (by my count) their fifth disc. Casson is originally from England and he brings a natural British pop sensibility to their work, which is apparent off the bat with the infectious "What The Pretty Girl Did", a kind of Kinks-meet-Merseyside bouncy number. The ragtime-y title track follows and continues the disc's appeal. Other standouts include "The Top of the Tree", in which Casson channels Gilbert O'Sullivan; the anthemic "Waiting in the Wings", swelling strings and all; and "Love Hearts In My Eyes", in which Hines contributes a sultry vocal over a winning indie pop beat.
So move and shake on over to the links below, and check 'em out.
CD Baby
|
MySpace