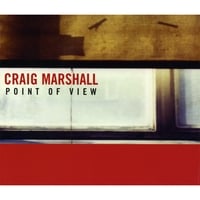 It's always good to see new releases from dependable power pop artists, and proof of that fact comes courtesy of none other than Craig Marshall, whose Popular Crimes and Before The Fadeaway established the Austinite as someone worth giving a listen. Now he's back with his third disc, Point of View, and fans of artists like Jim Boggia, Richard X. Heyman and fellow Texans Fastball will definitely want to give it a spin.
"Difficult" might be one of his best tracks yet. It's a hooky and melodic number as they go, and then around the two-minute mark we get a nice piano break and some Beatlesque harmonies before the chorus fadeout. Other standouts include the British Invasion-inspired "I Know What It's Like", the roots-rocking "When You Come Back Down", and the gorgeously melodic "Paper Cut", which almost sounds like a Brian Wilson version of Badfinger's "Day After Day". Also of note is "One Face In The Crowd", which is where the Fastball comparison comes in.
I'm already looking forward to album #4.
CD Baby
|
MySpace