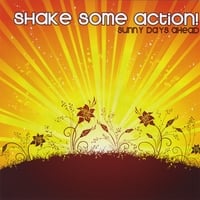 Theyyyyy're back. James Hall & Co. have brought us Sunny Days Ahead, the long-awaited (OK not that long - the first one came out about 16-17 months ago) followup to Shake Some Action's
eponymous debut
which placed at #27 on last year's Top 100. All of the things that made the debut great are here again on Sunny Days Ahead: the retro late 70s-early 80s sound that nevertheless doesn't seem dated, the Rickenbackers, the great tunes, and of course Hall's vocals, which fit the material and the sound perfectly.
But there a few differences. There is a bit of a harder edge to the tunes, evident right off the bat in the Kinks-ish "Get It Together" and "Looking for Someone", the former of which has a "You Really Got Me" vibe to it. In fact, "You Don't Care", which appears about midway through the disc, rocks harder and louder than anything on the first disc. Which is not to say that all the amps are turned up to 11 - "Hurry Up" and "I Don't Want to Talk About" have a great Merseyside jangle to them, while "Draw The Line" displays a real swagger. Meanwhile, "Curtain Call" has just that sort of Nuggets-style feel to it that Green Day captures on their Foxboro Hot Tubs release.
So while Sunny Days Ahead might be a semi-ironic title for a band that hails from Seattle, it's an apt descripton for power pop fans who take the time to pick this one up.
CD Baby
|
MySpace