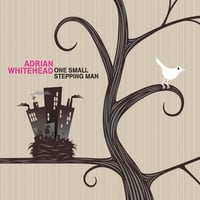 Usually, my practice is to listen to a CD over a couple of weeks before putting up a review, to get a feel for it and to make sure I initially don't overrate or underrate it. Then there's this disc, which I received three days ago and have listened to only a couple of times, and which I can say is easily the best new disc I've heard in many a month.
Adrian Whitehead hails from Melbourne, Australia, and he's on the incomparable Popboomerang label, home of many great power poppers. He's been mostly a sideman, with my only exposure to him being the track "Spector's Dead" (which appears here) on a Popboomerang comp from a few years ago. As good as that track is, nothing prepared me for how great this full-length is, in which Whitehead has shown his utter mastery of 60s and 70s-influenced pop forms that all of us in the power pop community enjoy. The Rolling Stone record guide once said that not liking the Beatles was as perverse as not liking the sun; the same could be said of this disc if you're a reader of this blog. While it draws its influences from the pop greats like the Beatles and Brian Wilson, it's also reminiscent of contemporary acts such as personal favorites like Derby and The Red Button as well as Jason Falkner, Michael Carpenter and Ken Sharp.
The bouncy and appropriately titled "Caitlin's 60's Pop Song" gets things going, and if your ears don't perk up within the first 30 seconds or so, you might be better off reading Pitchfork. The 6-minute "Saving Caroline" follows, and while my normal philosophy regarding songs is that 3-4 minutes is more than enough for a pop song (unless it's "Hey Jude"), it never wears out its welcome as it captures the late-period Beatles sensibility perfectly. "Radio One" is as catchy as it gets, and its breezy midtempo quality reminds me of Carpenter; "You Are The Sun" is piano ballad bliss that builds to a poptastic crescendo; and "Julia" may be even better than the Beatle track of the same name. Meanwhile, the aforementioned "Spector's Dead" doesn't have a wall of sound but provides enough sonic detours to keep things interesting, and "Ways of Man" has a bit of a Todd Rundgren-at-his-poppiest feel. And "Better Man" might be the coolest track on the disc, complete with an awesome honky tonk piano break in the middle.
Folks, step right up and meet the #1 disc of 2008.
CD Baby
|
MySpace