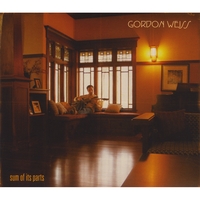 Last week we had The Rip Off Artists' Esque, and this week in the so-meta-it-hurts category, I bring you Gordon Weiss' debut album, Sum of Its Parts. Like The Rip Offs, Weiss proves he isn't shy about wearing his influences on his sleeve by virtue of the album title, and with tracks titled "Fountains of Weezer" and "Red Shoes Revisited", the subtext truly becomes the text.
The first line Weiss sings on this disc is "I know you've heard this all before" from "Fountains of Weezer" and that comes after the Cars-like guitar riff heard throughout "Stacy's Mom". So yes, "Fountains of Weezer" lives up to its title. That still doesn't mean it isn't a catchy rocker. "Too Much" follows, a "Tumbling Dice"-style rocker that lets Weiss pay homage to The Stones, while "It's Easy" is a fine, laid-back West Coast-influenced number. Meanwhile, "Red Shoes Revisited" is a worthy sequel to the Elvis Costello original as Weiss captures the Attractions' late 70s sound, and "Unforgivable" is quality jangle pop. Elsewhere, "Hook, Line and Singer" (apart from its punny title) channels the first Marshall Crenshaw disc with its catchy melodies and slight rockabilly feel and the piano-and-strings-based "Match Point" proves Weiss knows his way around a ballad.
This is a debut that's both tuneful and confident (in a genre where "derivative" is the main complaint leveled at it by non-fans, Weiss essentially says here "I'm derivative and proud of it!") and power poppers should be all over this one.
CD Baby
|
MySpace