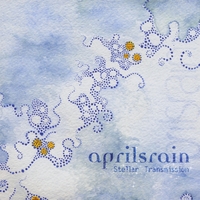 I could start this review by pointing out that the debut disc of this San Francisco Bay Area band featured heavy involvement by the Mannings (Chris produced, and Roger Joseph plays on it), and that would suffice to get many of you to check it out. But what looks good on paper doesn't always translate to disc, and no matter how much pedigreed help is there to contribute, ultimately it comes down to whether the band (and by extension, the songs) are good enough.
Thankfully, that's the case here with Stellar Transmission. And despite the Manning connection, this isn't a disc of Jellyfish-style pop. Instead, it's dreamy indie pop that still manages to be catchy and melodic. Opener "Left Alone" calls to mind
Chris Brown
(of Now That You're Fed fame). The boys delve into Greek mythology with "Antigone", and this lush, languid track is reminiscent of Tears for Fears' more esoteric moments. Meanwhile, the piano-based "Stumbling" could have fit in on the 80s pop charts with acts like Johnny Hates Jazz and Kajagoogoo (and I
don't
mean that as an insult). Other highlights include the near-jangly "Dagobah" and "Useless Games", which rock a bit more than their brethren on the disc, and the wonderful string-inflected closer "Building Up a Wall".
All in all, this is a captivating disc that rewards repeated listens.
CD Baby
|
MySpace