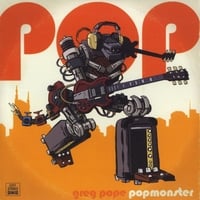 One of the more underrated power pop bands of the last several years has been Edmund's Crown, whose
Regrets of a Company Man
was one of my favorite releases of 2006. The Tennessee band has been one of the leaders of "southern power pop", along with artists like The Luxury Liners (whose frontman David Dewese has ironically just released a
solo disc of his own
), The Rewinds and Bill Lloyd. The man behind the Crown is Greg Pope, and he's out with his solo debut that not only continues the Edmund's Crown sound but expands upon it (and which sports pretty cool album art to boot). Popmonster is a
true
solo debut as well, with Pope writing, singing and playing all the instruments on each track.
Freed to do his own thing, Pope lets loose a total of 16 tracks here but there really isn't any filler. Opener "Sky Burn Down" lets you know you're not in Kansas (or at least Tennessee) any more as he revs up a Robert Pollard-style rocker in both sound and length (2:08). "I Got a Life" is another infectious barnburner which recalls both Matthew Sweet and The Who in places, while "Lost My Friend" and "Playing Nashville" travel in more familiar Edmund's Crown territory. "The Only Thing I've Got" also clocks in around 2 minutes, and has a definite Alex-Chilton-by-way-of-Paul-Westerberg vibe. Other standouts include the aching Jon Brionesque pop of "Only One You", the jangly "Footpath", the bright Americana-influenced "Little Things", and "Reason With You", another track that would have fit on nicely on Regrets of a Company Man.
A real tour-de-force and with Halloween approaching, this Popmonster will be scaring its way up my year-end list.
CD Baby
|
MySpace