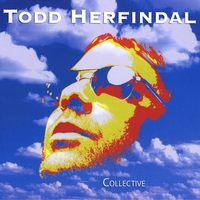 It's always a treat to get great music from an unexpected source, and after The Meadows put out their fine
First Nervous Breakdown
earlier this year, I figured that we'd hear from them again in a couple of years. But the wait only took about 8 months, as Meadows co-frontman Todd Herfindal has released his solo debut, and it's of a piece with the two Meadows disc, especially First Nervous Breakdown.
Collective is a bit of logical progression from the first two Meadows discs, as
Breakdown
was a bit more roots rock-oriented than the debut, and here Herfindal goes full bore into the Gin Blossoms-meet-Tom Petty vibe. This becomes apparent right off the bat with the ebullient "Air I'm Breathing" which shows off his melodic gifts in a heartland rocker that even features some tasteful horn backing. "Finally Movin' On" demonstrates the knack Herfindal had for the big chorus that he showed in The Meadows, and the laid-back "Waiting on the Sun" continues the Midwest-meets-California vibe. Elsewhere, standouts include the mildly Beatlesque "Forget It All Again", the rocking "Jaded" and the ballads "Won't Look Back" and "This Is a Love Song". Collective closes in grand fashion with "If I Hesitate", an anthemic number that starts off slow and builds to a big payoff. If you enjoyed either of The Meadows' two releases, this one's a no-brainer.
CD Baby
|
MySpace
|
eMusic