Readymade Breakup-Alive on the Vine
. New Jersey's Readymade Breakup is back with their followup to last year's Isn't That What It's For? and they're better than ever. This is vintage power pop with a radio-ready sheen that fans of The Jellybricks, The Shazam and The Meadows will enjoy. "One by One" is a scintillating opener, "Surrender" reminds me of The Raspberries, and "Stretch Your Head" incorporates a bit of soul in the mix. These guys know their craft, and will not disappoint.
Not Lame
|
Kool Kat
|
MySpace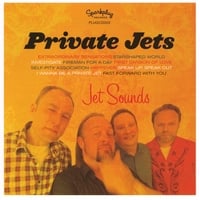 Private Jets-Jet Sounds
. How Swede it is! These Swedish retro power-poppers are back as well, following up their debut EP, and it's a delight. Of course the comparisons to other Swedish poppers like The Merrymakers and The Tangerines are in order, but they also have a more classic, British-sounding 60s vibe (fittingly they played IPO at The Cavern Club this summer). "I Wanna Be a Private Jet" enthusiastically gets things started, while "Speak Up, Speak Out" channels "Ain't That a Shame". Elsewhere, "Starshaped World" is vintage, sunshine-y pop, and "First Division of Love" lays on the sports metaphors to a jaunty love song. Chances are if your hairline's receding like the band members on the cover (like mine), you'll be loving this one.
CD Baby
|
MySpace
Gigantic-Gigantaphonic Sounds
. Well, if Jet Sounds weren't big enough for you, how about Gigantaphonic Sounds? This "big-name" Australian band has finally released this 2006 disc in North America through Zip Records (also home of The Wellingtons, whose new disc arrived in my mailbox yesterday, thanks) and they have a fine guitar pop sound that recalls The Gin Blossoms, Teenage Fanclub, and everyone in between. The jangly "Some Suburban Road" is a real treat, and other standouts include the TF-friendly "Balloon Animals", the rocking "Mr. Sound", and "Lied To", which has hooks that will stick with you.
Not Lame
|
MySpace